---
2023 Guide on How to be a Top Military Social Worker
---
2023 Guide to Social Worker Military Service (Air Force, Marine, Navy, & Army Social Work)
Over a 5-year study, close to 500,000 active duty service members were identified as being diagnosed with at least one form of mental health disorder.
Issues that are commonly diagnosed in veterans and active duty members include PTSD, depression, substance abuse, adjustment disorders, and anxiety. Whether working in active duty or civilian capacity, those in military social work provide a much-needed support system to these members and their families.  
Social work in the military focuses on enhancing the mental, social, and emotional well-being of active-duty service members, veterans, and their families. Through diagnosis, counseling, therapy, and resource referrals, an armed forces social worker can help military families live a better quality of life.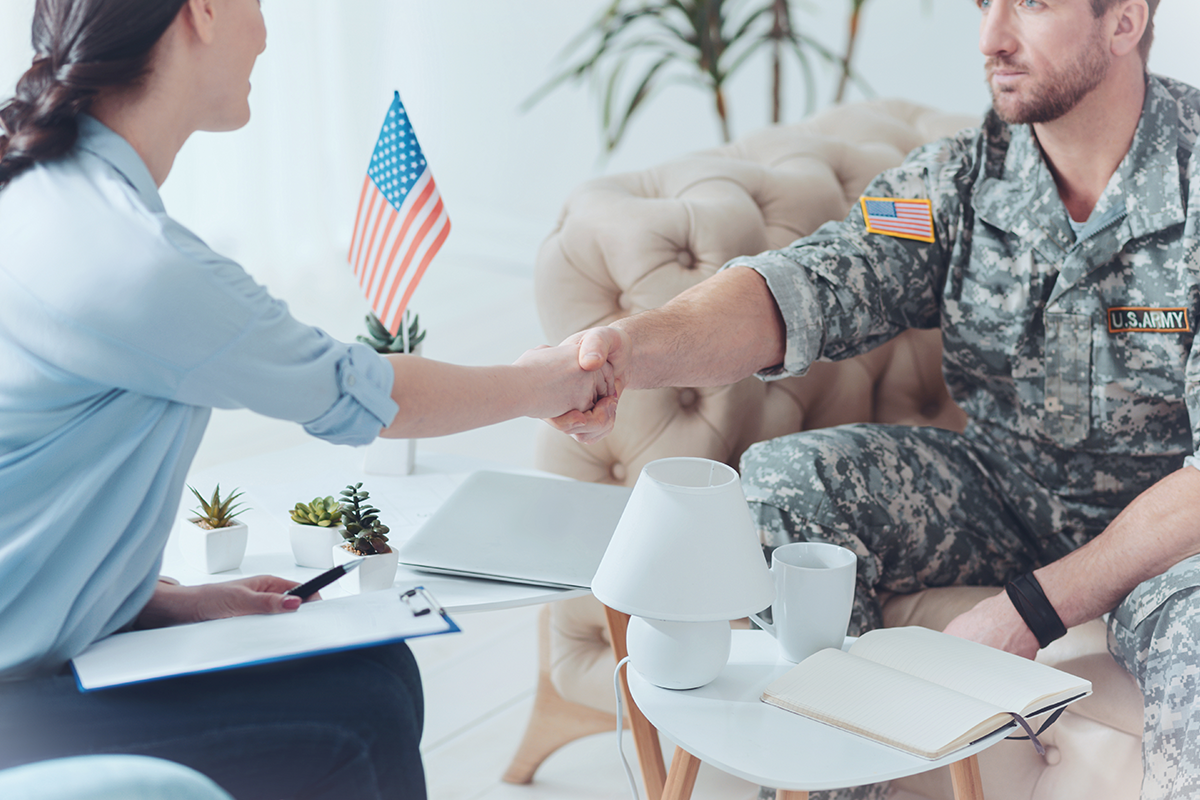 Social Worker Military
Social work military jobs are plentiful throughout the Department of Defense and the U.S. Dept. of Veterans Affairs. In this article, you'll discover how to become a military social worker, the types of social work occupations available in the military, and what military social work programs you can apply for.
Members of the armed forces and their families are no strangers to stressful situations. Deployments, combat, separations, and the daily responsibilities of the military can lead to a need for social and mental health support.
See Also: LCSW Jobs, Salary, Outlook & More
---
Table of Contents: Social Worker Military Jobs
Keep on scrolling down this page to read each section or click any link below to go directly to that section.
Don't Miss: What It Is & How It Works. All You Need to Know
---
What Does Military Social Work Look Like?
Life as an Air Force, Marine, Army, or Navy social worker is not that different from any other type of social work as far as what a social worker does. Where it differs is in how they do it.
Social work in the military involves doing intakes and mental health assessments, just like other types of social work. Once the assessment is performed, military social workers diagnose issues and provide treatment and support to enhance the social and mental well-being of their patients.
Some of the common duties of those in military social work occupations are:
Counseling (individual, family, and group)

Mental healthcare

Psychotherapy

Crisis intervention

Referral to social resources (financial, military spouse support groups, etc.)

Assist with the transition to post-deployment life

Assist with the transition to post-military life (job training, veteran transition support, etc.)
One difference between social work military occupations would be the structure in which their support activities take place. For example, there is a strict chain of command and procedures system in the armed forces that a social worker in Air Force, Navy, Army, or another branch of the military must know.
If the social worker military professional is enlisted, then their life will look a lot like that of other military officers. Those that are working with the military in a civilian capacity would not be subject to the same requirements, such as wearing a uniform, enlistment contracts, saluting superiors, etc.
Military social workers also will specialize in treating the types of problems and mental health disorders common to military members, veterans, and their families.
For example, due to deployments, military families are often separated from each other for long periods of time. This can cause depression, substance use, and other mental health disorders that military social workers provide treatment for.
Trauma is also prevalent in those active-duty military members and veterans that have been in combat. It can result in serious issues such as Post-Traumatic Stress Disorder (PTSD), Traumatic Brain Injury (TBI), and other disorders.
---
All-in-One Client Assessment & Case Management Hub
(for Social Workers, Case Managers, Clinical Workers)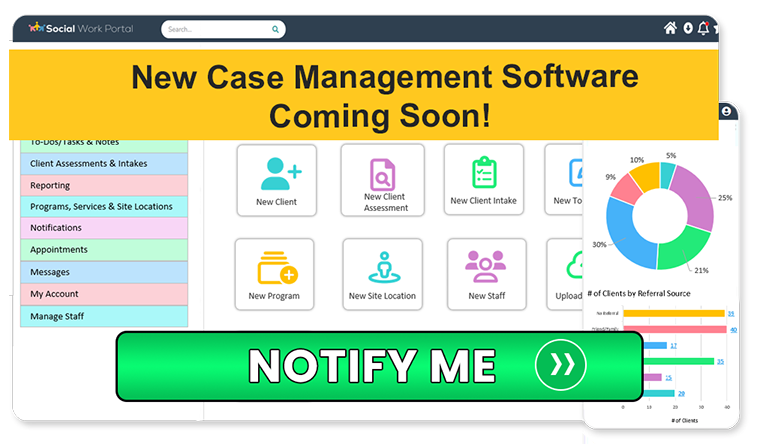 Coming in a few weeks: HIPAA-compliant all-in-one platform to manage your clients, conduct assessments and intakes, and many more. Click here to be notified: https://www.socialworkportal.com/Case-Management-Toolkit/
---
Related: Principles of Social Work Used Within Social Work Methods
---
Do you have questions about the duties of a UK Royal Navy social worker, Army social worker direct commission, or social worker Canadian Armed Forces? If so, contact the Social Work Portal Team.
---
Do Military Social Workers Have to Enlist?
Many military social workers are also members of the armed forces and enlist as other military members do. However, it is not a requirement to enlist to get a social worker military job.
There are many military social work jobs civilians can apply for on military bases, in veterans support agencies, and other areas of the U.S. Department of Defense.
In the next section, we'll explore three main ways that you can do social work in the military.
Popular Article: Psychosocial Assessment Template & Guide

---
Do you have any questions or feedback about this article on being a social worker in the Army, Navy, Marines, Air Force, or another military entity? If so, contact the Social Work Portal Team.
---
Types of Social Work in the Military
If you'd like to gravitate toward military social work once you've earned your social work degree or as a transition in focus from another field of social work, you have a few different options.
Social Work Officer Military Member
You can enlist in the military and serve in an active duty or reserve capacity. When you are an enlisted Navy, Air Force, Marine Corps, or Army social worker, you will be required to go through the same training as those joining the military in other job roles.
Because social workers need to have a college degree, you would go in as a social work officer, and most likely be given a junior officer rank, according to the military branch you're entering.
An enlisted military social worker will be subject to being stationed at the discretion of their branch of the armed forces. They can also be deployed or restationed at any time.
Military Social Work Jobs Civilian
Civilian military social work jobs can include working on a military base or at a specific agency that administers support programs. Such as a military spouse and child well-being program or at an on-base school for children of active-duty members.
Another example of civilian social work military jobs would be those at the U.S. Department of Veterans Affairs. This department supports military veterans, many of whom are in need of social and mental health services.
When working in a civilian capacity as a social worker military professional, you would not be subject to being stationed or deployed without consent, as active-duty military social workers are. That being said, some social work in the military in a civilian capacity does have a requirement for travel.
Private Practice with a Focus on Military Social Work
Private practice social workers are those that work for themselves, rather than for an organization or government agency. They often provide one-on-one, couple, and family therapy, counseling, and psychotherapy services.
Social workers in private practice, especially if they are located near a military base or veteran's hospital, can choose to specialize in military social work. This would give them expertise in helping veterans, military members, and their families. They would provide support and treatment for mental health and well-being issues specific to those who serve or have served in the armed forces, and their family members.
Read More: Social Work Intake Forms, Assessments & Client Surveys
---
Do you have any questions about veterans, Marines, Air Force, Navy, Coast Guard, or Army social work? Contact the Social Work Portal Team.
---
How Do You Become a Military Social Worker?
To become a military social worker, you would first need to complete your degree, field study, and licensing to become a licensed social worker. Many positions in the military prefer a licensed clinical social worker (LCSW) degree.
Here are the steps you would take to become a military, veteran, Navy, Marines, Army, or Air Force social worker:
Earn a Bachelor of Social Work (BSW) degree or equivalent degree.

Earn a Master of Social Work (MSW) degree.

Become licensed in your state or jurisdiction as a social worker.
These steps would qualify you for social work military jobs that were not of a clinical nature. To qualify for more positions or a Navy, Air Force, Marines, or Army social work program:
Complete the necessary field study in a clinical setting to qualify for your LCSW certification. (Note, some branches of the military will have military social work programs that may count toward some of your field study requirements.)

Take and pass the LCSW exam to become certified.
It's a good idea when earning your degree to take courses that align with possible military social worker requirements. For example, a course on PTSD treatment or veterans' transition support. Courses related to substance abuse disorder diagnosis and treatment are also relevant to issues that military members and veterans struggle with.
Your next step would be to choose which path you want to take – civilian or enlisted. If going enlisted, there will be other military social work training you need to do that is relevant to learning military culture and policies.
Social Worker Military Requirements by Branch
Related: Learn the Best Social Worker Case Notes Formats
---
Where Can I Find Military Social Work Programs?
Military social work programs and military social work internship programs are available in both the military and civilian worlds. They are designed to improve the quality of military social work and enhance a social worker's expertise and qualifications for working with veterans, service members, and their families.
Some of these military social work programs can be combined with other fieldwork that is required for the LCSW certification for clinical social work.
It's a good idea to seek out an Army, Navy, or Air Force social work program because this is going to give you the best introduction to working in the military as a social worker.
Here are a few military social work internship programs and university programs you can research:
Don't Miss: Introduction to Social Work with Free Templates & Examples
---
Do you have any questions about Army National Guard social worker programs, LCSW Air Force qualifications, or Marine Corps social worker requirements? Contact the Social Work Portal Team, we'll be happy to help.
---
Examples of Social Work Military Jobs & Descriptions
Do you want to become a Navy, Marine, Air Force, or US Army social worker as a civilian? If so, you can get an idea of the types of military social worker jobs available by looking on job sites like Indeed.
Here is an example of the types of military social work occupations you can find there:
Social Worker (Family Advocacy), U.S. Army Medical Command

Social Worker (Title 5), US Army National Guard Units

Interdisciplinary Counseling Psychologist/Social Worker, US Commander, Navy Installations

Licensed Clinical Social Worker – Air Force Family Advocacy Care/Treatment Manager

Military Therapist VA Tech ROTC, Magellan Health
Popular Article: Social Work Administrators | How to Become One & What's Involved
---
Conclusion | Social Worker Military Career Guide  
Social work in the military is vital to the health and well-being of our troops and their families. Veterans also rely on the mental health expertise of military social workers to help them deal with things like PTSD, depression, and substance use disorders.
From helping active-duty families transition to civilian life to treating veterans with traumatic experiences, social work military professionals provide much-needed support to those that serve or that have served in the armed forces.
If you're considering becoming a military social worker, there are many different career paths open to you. It's a great career field, whether you choose to pursue it as an enlisted member or a civilian.
See Also: What's It Like to Be a Social Worker for Foster Care or Adoption?
---
FAQ | How to Become a Military Social Worker
Can a social worker join the military?
Yes, you can join the military as a social worker. You will need to meet the age and educational requirements. When you are a social worker in the Army, Navy, Air Force, or another military branch, you will go through the same initial training as other military members.
Do military social workers get deployed?
Yes, military social workers can be deployed. If you've enlisted in the military as a social worker, you can be deployed just like other enlisted members. Additionally, for some civilian social worker military jobs, there may be a requirement to travel in support of military members.
What rank is an Army social worker?
An army social worker will typically go into a lower-level officer position when they first join the military. However, their rank depends on their education and experience level. Additionally, their position of responsibility and time in service will factor into the rank of a US army social worker, and social worker in other military branches.
How do you become an Air Force social worker?
You can become an Air Force Social Worker by earning a Master of Social Work (MSW) degree and meeting the qualifications to enlist.
Or, if you prefer to work as a civilian Air Force clinical social worker, you can look for open job positions for social workers at Air Force installations.
---
Note: Content on Social Works socialworkportal.com website is copyrighted. 
---
Social Work Portal Disclaimer: Social Work Portal is not a social work agency and we do not refer social workers. This web site is provided for educational and informational purposes only and does not constitute providing medical advice or professional services. The information provided should not be used for diagnosing or treating a health problem or disease, and those seeking personal medical advice should consult with ... Read our full disclaimer here: Social Work Portal Disclaimer.
---
Image sources: Stock.adobe.com